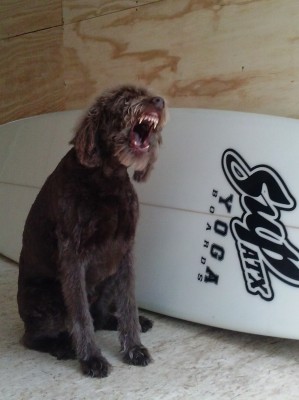 Q? Is stand up paddleboarding hard to learn?
A. Anyone with a good attitude can learn SUP with the proper board and instruction.
Q? I'm out of shape!
A. You do not need to be in shape to paddleboard.  Paddleboarding works the entire body from top to bottom.  You will be surprised how easy it is to learn and how often you will want to come back for such a fun workout!
Q? What if I fall off?
A. Yes, students do fall off occasionally especially if they are beginners, practicing yoga or it's a windy day. All boarders are provided a life vest and are attached to the board with a leash. You just climb back on!
Q? What do I wear?
A. Dress for the weather!  A bathing suit is the most popular choice mid-summer but on cooler days you can wear dry fit gear such as running/yoga tights and/or running/swim shirt.
Q? What should I bring?
A. Always bring water, towel, snacks and a set of dry clothes to change into.  Nothing is more uncomfortable than a long ride home in wet clothing!  Plenty of sunscreen is also a great idea.
Q? How do I pay or register?
A.   Depending on the class and launch site, registration and payment can vary.   Sunset Paddles and SUP Yoga can be reserved through Washington County,  Lake Carver workshops can be reserved through the City of Woodbury and exclusive Brown Dog Paddleboard Co. classes and events can be reserved by contacting us or our Square Market site.  If you have any questions, please call to clarify.  We do take payment on site and cash is always preferred!  The credit card swiper can be unreliable due to limited cell phone connections and WI/FI out at the lake!!!
Q? How is cell phone reception?
A. Service is poor unless you have Verizon as a carrier.  This means Brown Dog Paddleboard Co. may miss a text or call if out at the lake site.
Q? Can I just come and rent a board?
A. We no longer provide rentals.  We have shifted our company focus to safety and instruction!  Our intention is to provide a richer paddling and social experience through our regularly scheduled classes and events.
Q? I have an intense fear of the water and cannot swim!
A. You sound like a land based creature.  Paddleboarding may not be your sport as you will be surrounded by lots of water!
Q? I have an injury, can I come anyway?
A. Although fairly easy to maneuver, clients need to be fully capable of handling a board AND climbing back on.  Even though water rescue is exciting, we prefer your day and ours be without drama!
Q? What if I break or lose a board, paddle or any other equipment?
A. Let's hope this never happens but you are fully responsible for all equipment while it is in your hands and under your feet!  Replacements costs are as follows: Boards:$1000 Paddles: $200 Fins: $50 PFD:$25 Anchors:$25.
Q? Do I need to sign up ahead of time?
A. Yes!  We highly recommend it as many of our classes are full and class size is limited. We will also be able to contact you in the case of inclement weather cancellations.
Can I bring my own board?
A. Absolutely!  Your rate will be discounted and we would love to have you!  Make sure you bring a PFD, whistle, leash and your board is properly licensed in the state of MN.  If participating in SUP Yoga, be sure you can attach an anchor to your board using a simple carabiner.  We ask that you be set up and ready to go at class start time.
Q? Can I bring my dog?
A. We obviously love dogs but we cannot ensure their safety on the water.  Most of the launch sites where we operate do not allow pets on the premises so please leave your 4 legged friends safely at home.
Q? Inclement weather!
A. Your safety is our utmost concern.  Winds in excess of 14mph and lightning keep us off the water.  Otherwise, we brave the conditions including clouds, rain and cooler temperatures.  IF we cancel due to weather you are given a choice to reschedule or receive a full refund.  At the latest, we will give a 2 hour notice of cancellation.  Weather can change so quickly, we like to see radar image before making a final call.
Q? Where do I go to attend class?
A. We operate out of several different launch locations so check carefully before heading out!  Please allow plenty of time to park and walk to launch site!  Take care of and honor park fees before we start our lesson as to not disrupt class.  All locations and addresses can be found under Contact Us.
Q? Are parking fees included in class price?
A. No.  All fees are minimal and are paid by students upon arrival and are different for every site.  Currently, Square Lake Park Reserve requires a season pass or a $5/day vehicle pass.  Golden Acres RV Park (also on Square Lake and adjacent to Square Lake Park Reserve) requires a $3 per vehicle + $3 per individual park fee.  William O'Brien is a seaon pass or $5/day vehicle pass.  You will pay as you come into all parks.  Take care of and honor park fees before we start our lesson as to not disrupt class.
Q? Do I have to wear a lifejacket?
A. Per Minnesota Boating Law a life jacket or Personal Floatation Device (PFD) must either be attached to the vessel or on the operator's person.  We require all beginner paddlers to wear a vest as well as all paddlers in specific conditions (river launch, high winds and cold water temps).  All persons 12 years old and under are required by law to wear the PFD at all times.  All paddlers are required to wear the ankle safety leash at ALL times, no exceptions!
Q? What about kids?
A.  For our regularly scheduled classes we require kids to be 12 years of age, at least 95lbs and able to follow instruction.  All children must be accompanied by a responsible guardian while out on the water at all times.  If you are a family with small children, we would love to have you out for a Private Lesson where we can customize equipment, instruction and pace for your children.
Q? Is there a weight limit?
A. Yes!  Our boards can comfortably support individuals up to 240lbs.  Keep in mind, that the closer you are to that top limit, the more challenging the balance will become!!!  We have added a couple boards to our fleet that can support up to 400lbs.  Please ask!!!
Q? What about alcohol?
A. Alcohol is not allowed in the parks where we operate.  Our insurance and liability policy prevents us from allowing individuals who have been consuming alcohol to participate in programming. No exceptions! Downtown Stillwater, Woodbury, Marine on St. Croix and White Bear Lake have great restaurants for food and drink after your session.
Q? Do I need to sign a Safety and Liability Waiver?
A. Yes!  Waivers must be completed and signed to participate in class.
Q? What is your Cancellation Policy?
A. We require a 24 hour advance notice of cancellation to obtain a full refund.  If classes and events are cancelled due to weather we will do our best to accommodate and reschedule or refund your money.  Private Groups have a 48 hour window for cancellation!