SUP FIT TEAM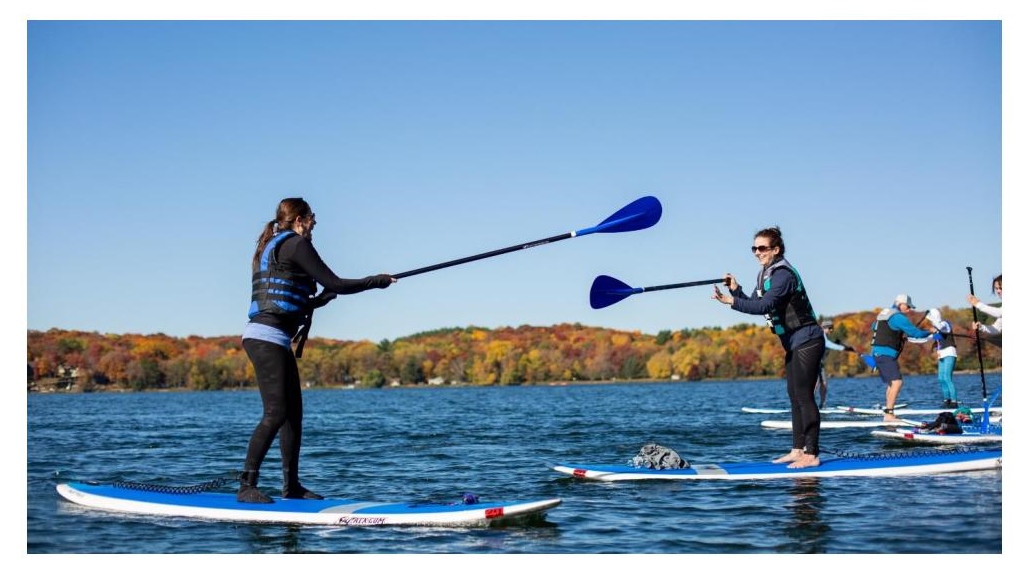 This 9 week series has been designed for any level paddler to sytematically improve skills with regular practice in a group setting.  We start with the basics and build skills as a group. Our focus will be on technique, alignment, power, tracking, endurance, strength, stability, mobility and timing.  Where you take it is up to you but you will learn A LOT and have FUN doing it!
Stand Up Paddleboarding (SUP) is a great workout and a fun way to stay active in the summer.  It is a perfect cross training  sport that specifically engages the core muscle groups and is low impact.
SUP FIT Team provides a fun way to meet, encourage and become good friends with other athletes. You will meet fellow paddlers that share your passion for being active on the water!
Location:  Square Lake County Park (meet at trailer)
We are offering 3 options for SUP Fit Team in 2021!
SUP Fit Team The original and classic option that allows you to get the most out of the SUP Fit Team Experience. We will meet twice a week for 9 weeks and work on perfecting basic and advanced paddle skills, footwork, speed, endurance, buoy turns, drafting, passing and race starts. Incorporating race training to challenge our 'on the water' workouts.  New Students Welcome! No experience Necessary!
Details:
Tuesdays June 1 – July 27 2021 5:30pm – 6:40pm
Saturdays June 5 – July 31 2021 7:30am – 8:40am  BOOK NOW
NOTE:  Final 2 dates Tue Aug 3 & Sat Aug 7 will be inclement weather make up dates!!!
Cost: $395
SUP Fit Team LITE   A 'Lite' version of the original and classic SUP Fit Team that provides less commitment with meeting only once a week for 9 weeks. You will choose either Saturday or Tuesday.   This option has very limited availability.  New Students Welcome! No experience Necessary!
Details:  Same dates and times as SUP Fit Team.
Tuesday Only  BOOK NOW
Saturday Only BOOK NOW
Cost:  $250
*NEW*  SUP Fit Team Elite  We are SO excited to offer this Fit Team option to our more advanced paddlers who are looking to work hard on endurance, speed, pivot turns and take their skills to the next level with a group of paddlers that are ready to advance past our standard SUP Fit Team Option. This class will be a 2 hour paddle experience held 1 day a week for 9 weeks. This will allow us to work more on endurance training and intense skill practice. Must be a prior experienced SUP Fit Team member with strong confident paddle skills!
Details:
Wednesdays June 2 – July 28 2021 6pm – 8pm  BOOK NOW
NOTE:  Wed Aug 4  will be inclement weather make up date!!!
Cost: $295
Covid-19 Guidelines:  For added hygiene during this time, we suggest as a SUP Fit Team Member, you invest in your own PFD & Safety Whistle.  If you already own a personal paddle, great!  Bring that too.  We will always provide disinfected items as needed so you are welcome to use ours at your own risk.   We also ask that you wear a mask when not on the water and follow 6ft spacing between participants at all times.  We are outside but things get congested at the trailer before and after class times.  Do not come to class if you or anyone in your home is running a fever or has cold/flu symptoms, are awaiting a Covid test or thinks they have been exposed.  We can continue to have fun and enjoy the outdoors in a safe manner if everyone can respect each other's safety and our guidelines.  Thank you!